London as the Centre of the Russian Art Market
Russia's turbulent history of the past century, lack of transparency in its local art market and draconian customs regulations all contribute to London's status as leader in the trade of Russian art. The remoteness of the British capital from Russian borders has never been an obstacle: Russian art lovers fly here regularly to pursue their far-reaching art interests. Moreover, super-rich Russians are top prime property buyers, according to Forbes, and most of the time they choose London as their second home.1
London holds so-called Russian weeks twice a year, around May/June and November/December, at all of the top auction houses dealing in Russian art: Sotheby's, Christie's, MacDougall's and Bonhams. During the May 2012 Russian week, this author witnessed how one of Russia's biggest art collectors spent an unforgettable few days in London (unforgettable at least for the dealers he bought pieces from), during which he raced through top Bond Street art destinations armed with nothing but determination and an overflowing bank account.
The biggest presumption about Russians is that they are incredibly rich. Indeed some of them are. With the stable demand for oil and gas in the rest of the world, and the stability of a political system favouring the accumulation of incredible wealth in the hands of the few, Russia remains an inexhaustible source of demand for luxury products including art. Russians in general, and Russian oligarchs in particular, love to live in London: in the UK's Rich List published by the Sunday Times two out of three names at the top of the list are Russian.2 Both of them – Alisher Usmanov and Roman Abramovich – are avid collectors of art; at least of the transportable wealth that art represents.
Russians like to buy wholesale, sweeping items from the cheapest categories up to the most expensive masterpieces, all in one coup. A pattern established by Catherine the Great (1729 – 1796) herself, whose goals were highly ambitious: to create, almost from scratch, an Imperial art collection unrivalled anywhere in Europe. Her collection included: 225 paintings from Berlin merchant Johann Gotzkowski (1710 – 1775) chosen by him for King of Prussia Frederick II; the paintings collection of Saxon minister Count Heinrich von Bruhl (1700 – 1763); the very famous Pierre Crozat (1661 – 1740) assemblage of pictures; and lastly the celebrated gallery owned by Sir Robert Walpole (1676 – 1745). Notably, the latter will come home to England next year in a exhibition called Houghton Revisited: the Walpole's Masterpieces from Catherine the Great's Hermitage, opening in Houghton Hall in Norfolk in May 2013. For the period of the exhibition the Houghton Hall that housed Robert Walpole's collection in the 18th century will be restored to its previous glory, with paintings carefully hung according to the original display.3
Just as Renaissance princes supported the arts, modern Russian collectors buy precious artwork and world-renowned paintings to enhance their splendori, fama, and magnificenza. They throw a great deal of money at the art world to show how cultured they are, despite spending most of their time between offices in Moscow and plants in Tyumen rather than in the Italian Renaissance studiolos and tribunas surrounded by literary and artistic masterpieces.
A line in the book The Patron's Payoff says: "Personal promotion through art was highly effective, largely accepted and extremely widespread in Renaissance Italy, as in many other locales and eras." 4 Great Italian families like the Medici, Rucellai, Farneze, Barberini, and other noble patrons have left for our enjoyment the splendid palazzos and museums that they built to house their magnificent art collections. So indeed, it is today in Russia. For example, Alexander Ivanov, one of the richest modern-day tycoons, clearly aims to be remembered by posterity in a similar fashion. In 2009 Mr Ivanov opened a Fabergé Museum in Baden-Baden that houses an extensive collection of bejewelled items made by this official supplier of Russian Imperial court between 1885 and 1917: eggs, vases, clocks, cigarette cases, statuettes.5 Mr Ivanov, owner of the most expensive egg ever sold at auction,6 is also a patron of the Museum of Christian Culture in Saint Petersburg that exhibits Russian and Byzantine icons dated from as early as the eleventh century up until the twentieth century.7 His taste, however, is not limited to the objects that commemorate the bygone glory of his native country. Other collecting passions include European Old Master paintings, pre-Columbian gold and vintage cars. Mr Ivanov's closest rival, Viktor Vekselberg, is another passionate collector of Fabergé eggs, of which he possess nine, compared to Ivanov's three. Competition between the two contributes to a great extent to the success of Russian art auctions held in London, at which both of them bid regularly for dozens and dozens of items.
To use a widely known term by economist Thorstein Veblen (1857 – 1929), buying art is an obvious form of "conspicuous consumption;" to collect art is prestigious and fashionable; the desire to signal status remains strong. The record prices paid by Russian collectors at public auctions clearly demonstrate this. Often Russian collectors invest in status by acquiring symbolic artworks representing their country's heritage. One of the most famous purchases for 'the sake of nation' was the acquisition by Alisher Usmanov8 in 2007 of the entire art collection that belonged to Mstislav Rostropovich and his wife Galina Vishnevskaya, both dear names for Russian art and culture. Rostropovich was a world-renowned cellist and Vishnevskaya was an equally famous opera singer. Attracted by a depiction of an Uzbek rider on the catalogue cover and eager to demonstrate his high patriotic credentials, Usmanov halted this sale by placing a bid almost double the Sotheby's multimillion pre-sale estimate, only one day before the auction was scheduled. The Face of Russia (1920s) by Boris Grigoriev, described by art historian Clare Sheridan as "the greatest work of art to come out of Russia since the revolution;" The Treasure of the Angels (1905) by Nikolai Roerich; Portrait of Madame Bestuzheva (1806) by Vladimir Borovikovsky, a favourite of Catherine the Great; as well as exquisite porcelain and glassware objects bearing an Imperial provenance, now adorn the Constantine Palace, the official residence of Russian President Usmanov in St. Petersburg. 9
Many Russian collectors finding art in London have a rather traditional taste, buying established brand names: Vereschagin, Roerich, Repin, Aivazovsky, and Fabergé are commonplace names for sales at established auction houses. A highly popular and highly commercial period is the Russian Avant-Garde (c. 1890-1930) encompassing several art movements including Futurism, Suprematism and Constructivism. This period, often regarded as the most innovative and experimental phase of Russian art, produced such world famous artists as Exter, Larionov, Kandinsky, Rodchenko and Malevich.
Russian collectors nevertheless hunt not only for Russian Avant-Garde, Old Master paintings, Imperial snuffboxes, icons, eggs or silver kovshi. Russian-speaking buyers, also including Ukrainians, Kazakhs and Georgians, can be spotted at auctions and at pre-sale parties from every department, notably Contemporary Art, Modern and Impressionist Painting and Jewellery. In a time of financial turmoil they sweep up anything that falls into the category of transportable wealth, and they do so for a good reason. Strict customs rules coupled with tedious bureaucratic procedures and corrupt officials hinder the export of national treasures from Russia, while art works acquired abroad can travel in and out of the country legally. However, many of the objects bought in London never leave this city. They stay to adorn Kensington townhouses, apartments overlooking Hyde Park or simply remain locked in safes to secure a carefree existence for the owner in the future.
Finally, Contemporary Russian art is a very particular collecting category. It reached its peak at the auctions and the economy in 2008 and has never recovered since then. In the past couple of years the demand seems to be steadily recovering, demonstrated in part by the growing number of contemporary Russian Art galleries flourishing in London. These venues operate to meet the cultural needs of an ever-growing Russian population in the U.K. as well as to introduce Russian art to the Western audience. Regina Gallery and Erarta, both well established in Russia, recently opened their London branches, while Calvert 22, ArtMost and Salon Vert are local art initiatives launched by expatriates living in Britain. Yulia Nagy, the director of ArtMost Gallery, notes that many collectors are gradually getting bored and exhausted by champagne receptions and private openings. Gallery parties are glamorous social events attended by the rich and sometimes famous. However, a new trend can be observed whereby visitors appear to be getting hungry for education, as well as for entertainment. Video screenings, panel discussions and artist talks are becoming regular entries in the exhibition programmes of both commercial and non-commercial art venues. This seems to represent a healthy movement proving that the Russian collector is maturing, and eager to look, learn and develop his and her taste.
We can soon expect a new wave of interest towards Contemporary Russian Art among Russian and international collectors as the British most prominent Contemporary Art trendsetter, Charles Saatchi, launches an exhibition of Contemporary Russian artwork. "Gaiety is the Most Outstanding Feature of the Soviet Union" featuring Boris Mikhailov, Valery Koshlaykov and Gosha Ostretsov is on view at the Saatchi Gallery until 5 May 2013, and might prove by far the most effective international PR strategy for living Russian artists.
IMAGES:
Murillo, Bartolome Esteban (1617 - 1682)
Walpole Immaculate Conception
Oil on canvas, Spain, c. 1680 (?),
State Hermitage Museum, Saint Petersburg, Russia; Image source
K. Fabergé, M. Perkhin's workshop
Clock made for the 25th wedding anniversary of Emperor Alexander III and Empress Maria Fedorovna.
Silver, gold, onyx, brilliants, clockwork, St. Petersburg, 1891
Fabergé Museum; Image source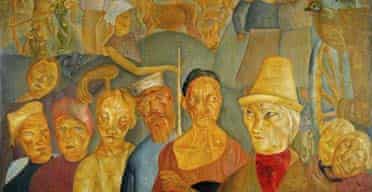 Boris Dimitrievich Grigoriev (1886 - 1939)
Faces of Russia (detail)
Gouache and watercolour on paper laid on board, 19.75 x 22.25 inches
Private collection, Russia; sold Sotheby's 2 November 2009; Image source
Valery Koshlyakov
Grand Opera, Paris
1995, Tempera on cardboard 345 x 487 cm
Image courtesy of the Saatchi Gallery; Image Source
---
NOTES:
1 Rapoza, Kenneth. Where the Rich Want to Live. "http://www.forbes.com/sites/kenrapoza/2012/03/29/where-the-rich-want-to-live/" http://www.forbes.com/sites/kenrapoza/2012/03/29/where-the-rich-want-to-live/ , last consulted on 20 September 2012
2 Sunday Times Rich List 2012 Sunday Times 15 May 2012 "http://www.therichest.org/nation/sunday-times-rich-list/" http://www.therichest.org/nation/sunday-times-rich-list/, last consulted on 20 September 2012
3 For more information on the collaboration, please visit the Houghton Revisited website: http://www.houghtonrevisited.com/
4 The Patron's Payoff: Conspicuous Commissions in Italian Renaissance Art, eds. Nelson J.K. and R.J. Zeckhauser, (Princeton, N.J. ; Woodstock : Princeton University Press, 2008), p. 1
5 For more information about the Fabergé Museum in Baden-Baden, please visit http://faberge-museum.de/show.php?page=11&lang=en
6 He paid £9m for an egg, created in 1902 and sold by Christie's in 2007. Made from gold and pink enamel, bearing a cockerel on top that pops out and flaps its wings every half an hour, the egg was an engagement gift to Baron Édouard de Rothschild
7 For more information about the Museum of Christian Culture in Saint Petersburg please follow this link: http://www.konst-elena.ru/
8 Alisher Usmanov is of Uzbek origin and was born in a little town of Chust, Uzbek SSR.
9 Harding, Luke. "Russian oligarch halts auction to buy complete Rostropovich art collection." The Guardian, 18 September 2007. http://www.guardian.co.uk/world/2007/sep/18/russia.artnews Visited September 2012.
10 Yulia Nagy, ArtMost gallery. In interview with Aliya. September 2012.